Ptacek relishes playmaker role
Mill Valley High junior Cody Ptacek compares a high school basketball team to a family. The relationships formed are deep -- the friendships are long lasting.
That said, leaving his "family" of a year ago, was not easy. Just a junior, he didn`t have a choice. He lives within the Mill Valley boundaries.
Still, when the basketball schedule came out and Ptacek saw the Jaguars were opening the season against DeSoto Tuesday night, he instantly had mixed emotions.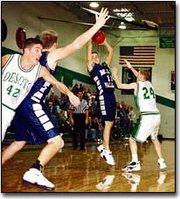 On the one hand, it`s a season opener. Getting excited about that -- especially when you consider it was the first basketball game in school history -- takes little effort.
However, there was one little reason for reservation. Ptacek admitted he generally doesn`t do well when matched up against good friends -- or family members, for that matter.
"I personally always have trouble playing against friends," he said. "I try to be a nice guy. I don`t know why it happens."
Not that he expected anything but success Tuesday night.
"This is the first time we put on the jerseys-- the first time the school is playing," he said. "This sets the tone for the entire season."
Ptacek wasn;t at his best. Four trouble had him on the bench more than he is accustomed to, but he still managed to score 13 points and dish out five assists Tuesday.
It was a sub-par effort by his standards, but he still drew the praise of DeSoto coach Jason Generally, a former college point guard himself, who was making his head coaching debut.
"He is a good player," said Generally, a former Olathe South standout. "I can see why he is considered one of the best players in the Kaw Valley League."
For a kid who played more than 80 basketball games last summer, including a handful of games at an AAU national tournament in Detroit, chalking up Tuesday night`s season opener as just another contest would be an easy conclusion to jump to. It would also be an incorrect assessment.
The high school basketball season is special, Ptacek said.
"When there are only 20 games, they are all important," he said. "You`re representing not only yourself, but your teammates, your school, your family.
"You`re playing for so many people, it means a lot more."
Ptacek used his summer to prepare him for the next four months of basketball. Playing for the Sport 2 Sport Jayhawks, a squad comprised mainly of Lawrence High players, Ptacek played point guard for a team that won more than its share of games.
"We had a good summer. It was good for me because it gave me a lot of experience." he said, noting that some summer league teams have a tendency to abandon the team concept of basketball and play up-and-down fastbreak street ball.
"I have been fortunate enough to find teams with good enough coaches to keep some structure to the games," he said.
He played games in June and July and then concentrated his efforts in August on working on his weaknesses -- namely his jumper, while honing his ball-handling skills.
My shot was really flat in the summer. I worked the most on that," he said. "And you can always improve your ball-handling skills."