Feeling the heat
Soaring temperatures expected for DeSotos 2000 opener in Lansing
Sweltering heat forced DeSoto High to prepare for its first game of the season with a modified practice schedule this week.
The Wildcats, who open a new season Thursday night on the road against Lansing High, were on the practice field for less than an hour Monday.
Normally a heavy practice day, the players were not in pads and spent the hour working on punt formations as temperatures soared to 106 degrees.
The team then went into the classroom to go over plays on the chalkboard.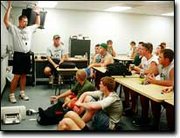 This was the only way I could have any kind of practice at all,coach Brad Scott said.
Its not what Scott wanted, heading into his first game at DeSoto, but every football coach learns early that some things X especially the weather X can not be controlled.
Its expected to be just as hot Thursday for the scheduled 7 p.m. kickoff, but Scott is hoping the Wildcats new-look offense is the real story.
The Wildcats, who finished last season at 4-5, will do things a lot differently under Scott.
Gone X actually, it just moved a bit to the east X is the Wing T formation of the recent past.
In its place is a run-and-shoot offense Scott brought with him from Olathe South, where he was an assistant on a team that made it to the Kansas Class 6A championship game a year ago.
But no one ever said Scotts first head coaching gig would be easy. He inherits a team with just four players with varsity experience after a large portion of the teams seniors bolted for the districts new school, Mill Valley.
DeSoto has about 30 players this season.
Still, he refuses to make excuses or even call this first campaign a rebuilding year. Instead, the concentration will be on the players who are in camp and how they can help DeSoto win football games X this year.
The kids that came here committed to the program this summer, Scott said. They havent backed down yet.
Rebuilding time or not, sophomore quarterback Greg Francis will lead the Wildcat offense against the Lions Thursday. Other Wildcats Scott hopes will be big producers on offense are junior linemen David Davis, Bart McGivern and Jim Stevens. Junior Justin Haub and freshman Pete Crall hope to be regular receiving targets for Francis.
On the defensive side of the ball, Stevens and McGivern will lead the linebacker corps, while Haub, Francis and Crall will lead the Wildcat secondary. Davis will lead the defensive line as well.
Scott said hed be able to determine how the year will go from the Lansing game, and the game will also give his players needed experience.
Theyll have to model leadership on their own, Scott said.
After the brutal heat of two-a-days, Scott believes everythings in place for his team.
When we go to battle, Ill be proud of these guys, Scott said.
More like this story