Warren, K-State set to meet Iowa
A new college football season kicks off Saturday inside Arrowhead Stadium when Iowa takes on highly ranked Kansas State in the Eddie Robinson Classic.
It's a time of excitement for most Eudora's Nick Warren included.
This marks the fourth year Warren will be in a purple jersey. Not bad, considering he has gone from walk-on to starting tight end at one of the best college football programs in the nation.
"We're preseason top five across the board," he said. "Anytime you've got that mark going into the season, you're pretty excited."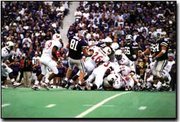 The 1997 Eudora graduate has enjoyed playing football for the Kansas State Wildcats.
"I guess out of high school, it seemed like the best option for me," Warren said. "It was the thing I was most excited about doing. K-State had a great program and a great tradition building."
Warren originally walked on to the team and was red-shirted his first year. At the end of the 1998 season, he said he was awarded a football scholarship.
"Obviously I was excited," he said. "They thought that I could do the things that were needed."
The 6-7, 255 pound tight end said his first year as a Wildcat was a little difficult.
"It was hard at first," Warren said. "It's a lot different than high school. It's a lot more fast-paced, a lot more in-depth. The time commitment is a lot more substantial."
Warren said his training doesn't stop when the five-month football season is over.
"Football is a year-round job at this level," he said. "During the offseason, we do a lot of conditioning. Once the season starts, it's quite a few hours a week, watching films, lifting weights, meetings and practicing."
Warren, who is majoring in finance, said juggling school and football could be difficult at times.
"Football's a full-time job," he said. "Starting in the fall, I have class in the morning. Then before practice I have to lift weights. Then we have meetings and then practice until 9:30 at night.
"When you practice all day and don't get home until late, it's difficult to study for a test you have the next day," he said.
But the hard work pays off, Warren said. Playing in front of more than 50,000 fans on a game day is exciting, he said.
"I would say the first couple of times as a freshman, it's pretty cool," he said. "When it's a big game, everybody's hyped up.
"When you've been there awhile, you don't notice the fans as much because you're so into the game," Warren said. "But it's definitely a very cool atmosphere to play in."
Nick said he is looking forward to the season. He said he's prepared to do the job the team expects from him.
"I feel I bring quality depth to the position," Nick said. "I started three games last year and I played a lot. Obviously, I think they feel that they have a solid player. They're comfortable with me playing in any situation."