Were it not for the freshly-painted walls and a few unfinished details, it would have been difficult to tell Mize Elementary opened its doors for the first time Thursday morning.
The district's new elementary school in Shawnee is, by design, a carbon copy of the DeSoto school district's recently-built Starside and Clear Creek elementary schools.
There was no first-day confusion as students quickly found their way to their classrooms. With the exception of a few students whose bus arrived a couple minutes late, the hallways were clear by the time the morning announcement was made.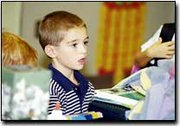 School secretary Debbie Atwell welcomed the students to the "first day of class at Mize Elementary." She led them in the Pledge of Allegiance and officially turned things over to the classroom teachers.
Principal Gaye Howorth also showed few signs of being at a new school.
As she made her way down the hallways and into the classrooms, she greeted most students by name. She complimented one on his new haircut and noticed how much another had grown over the summer.
Howorth may be new to Mize Elementary, but she's no newcomer to the school district. As principal at Woodsonia Elementary School last year, Howorth brought many of her students along with her to Mize.
"I know a lot of these students from last year," she said. "That does make starting at a new school a lot easier."
Having an experienced principal and several experienced teachers at the school made for a smooth first day, Howorth said.
"Everything's gone great so far," she said. "We've got a little work left to do on part of the playground, but for the most part, the school was ready to go this morning."
Things also went smoothly on the other side of the district, at Starside Elementary. Allowing students to visit the school with their parents prior to the first day of class solved a lot of potential problems, principal Paula Hill said. The school hosted an open house about a week before school started where students were encouraged to put their supplies in their desks and tour the school with their parents. Several of the school's teachers were also on hand to meet the students.
A separate open house was held Friday for kindergarten students and their parents. Because the students were attending school for the first time, teacher Sheryl Schlatten said, the open house was particularly helpful.
"It gives them a chance to get familiar with their surroundings," she said. "They see this is a fun place and a place they want to come back to."
Kindergarten student Robbie Kemp took to her new environment almost immediately. Leaving his mom and dad at the front of the classroom, he made some new friends in the play area. When it came time to go, he looked around for something else to do.
"First I'm going to work all these puzzles," he said.
Others, such as Covel Hanson, needed a little more time. He held onto his mother as Schlatten coaxed him to do color a picture. Dealing with scared students is something most kindergarten teachers are accustomed to, Schlatten said.
"He'll do fine," she said. "It takes some kids a little longer to feel comfortable. Once they make some friends and discover how much fun it is, they do great."
More like this story