Getting their kicks
Mill Valley starts new soccer tradition
Establishing something new is always a challenge an opportunity most people relish.
Soccor coach Arlan Vomhof and about 30 players are ready to kickoff a Mill Valley High program.
For some players, it isn't exactly something new. It's a change and a chance to start fresh.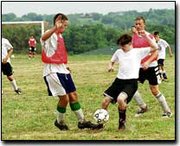 "We can build our own traditions here," said senior Anthony Arnold. "We have a clean slate to start with."
The Wildcat days are a thing of the past. This is the start of Jaguar Pride. Several of DeSoto High's top players will be suited in slightly different attire, and some are in new roles.
"I've got some people in different positions than they are used to playing," Vomhof said. "And I feel we are going to be very competitive this year."
Vomhof hopes he is the man to make it work. He has the experience and a squad full of talent.
"Coming in as a new coach, new school and a new team gives us the opportunity to start a lot of new traditions," Vomhof said.
After a four-year layoff, Vomhof was more than ready to be a coach again. He coached for four years at Topeka-Seaman and was head coach for three of the girls and boys soccer teams.
Family became a priority so Vomhof took his leave from coaching. He had been teaching at DeSoto High for the last four years.
"The last couple of years, I have worked at the games," Vomhof said. "I got the itch to do it again."
Arnold said the team has worked hard during the first week of practice on communication and endurance. Arnold said the main thing the team needs to work on is switching fields, or crossing the ball from the left to right sides.
"The team is coming together really well," Vomhof said. "The attitude has been positive."
Brian Johnson is one of the leaders. In front of the net, the Jaguars have goalkeeper Dugan Brown, who led DeSoto High to an 11-5-1 record a year ago.
"Dugan has really taken control of the goal area and with the defensive players," Vomhof said. "He's a very quiet person so this is different for him"
John Murphy and Arnold are two Vomhof said do an excellent job in on defense.
"It helps from the coaching aspect that these guys have really stepped up," Vomhof said. "I know that I've got a group of guys who could do a great job if everyone kicks in and does what needs to be done."
The Jaguars will play their first game at 5 p.m. Tuesday. in Manhattan. Their home opener will be against Ottawa at 6 p.m. next Thursday.
More like this story