The Jaguar Era begins
Mill Valley High opens its doors for inaugural year
When the students at Mill Valley High School in Shawnee walked through the schoolhouse doors Thursday morning, they made history.
The first students to attend the DeSoto School District's new high school began a new era this week. The Mill Valley Jaguars became more than a name attached to an empty building.
Whether it's their youth or the fact that a lot of the students went through the same thing a few years ago with the opening of Monticello Trails Junior High, many of the students who attended the school's open house Sunday were not concerned with making history. As the students walked through the halls for the first time, they were more impressed with the size of the school and the fact that they would be sharing it with less students.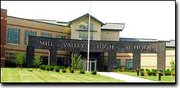 "I like it better. It seems a lot bigger," sophomore Jennifer Ambrose said. "Last year we were really packed in the hallways, it was so crowded."
Seniors Angie Darling and Melissa Marville toured the school together, along with Melissa's father, Marty Marville. The two girls were also happy to have more elbow room.
"It should be a lot better this year. DeSoto High School was so crowded, it was hard to get down the halls between classes. We're going to have more room this year, that's for sure," Marville said.
Marville, however, also anticipated the down side of attending a new school.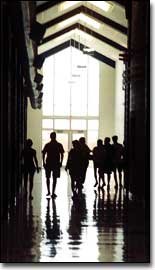 "It's good and bad really," she said. "Because it's new, they're not going to let us chew gum or anything. I'm sure they're going to be really picky for a while."
Darling wasn't surprised that her classmates were not overly excited about their place in history.
"Our class has never been very spirited," she said. "Maybe having a new school will help."
Marty Marville said he could appreciate the new building a little better than the students.
"I like the school. I think it looks great. It's definitely colorful," he said. "They do have it better than we did growing up, but then again, they have to know a lot more now. They were talking about the math classes they were taking and it's pretty advanced stuff. I went all the way through calculus in school, but they're way beyond that."
Senior Maike Pieper put things in perspective for the Randy and Suzanne Addington. The German exchange student is living with the Addington's this year and was impressed just minutes into the tour as she entered the school's large cafeteria.
"This is so different that what we have in Germany," she said. "We don't even have a cafeteria. We don't eat lunch at school. I think the school is very beautiful and very big."
With three children attending the high school, Karlene Thomas was glad to have a school so close to their home.
"Finally," she said. "We just live a few blocks from here so this is going to be great for us. I think the school looks great and I think it's about time we had one on this side of the district."
Thomas said she was most impressed with the school's media center.
"I really liked that area. I think they did a great job with all of the computer technology and I'm happy to see the televisions in the classroom so all the students can see what's going on," she said. "It's much better than the old overhead projectors."
Her twin daughters Kristine and Katherine will be freshmen this year and her son, Grundy, will be a senior. Thomas said she's glad her children will all have the chance to graduate from the same high school.
"I guess we're starting a family tradition here," she said.