Improvement slow but steady at Riverview
Bigger said soy long to paying, waiting to play a round of golf
Editor's note: This is the final part of a summer-long series highlighting some of the better golf courses in the Kansas City metro area. This week, we once again stayed local to check out a fledgling course in Eudora's Riverview Golf Course.
Six years ago, Jim Bigger got tired of the long lines and steep costs associated with playing golf in Johnson County so he did something about it.
He started by getting out of Johnson County. Then he turned a soybean field he owned into a makeshift golf course.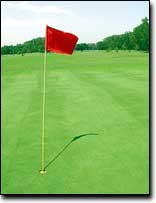 Why not?
Golf was once a rugged sport. Tell me the Scottish played on lush fairways way back when during the game's stages of infancy.
Soybean field? Potato field? What's the difference?
That first year, it played just like that nine holes of golf on what used to be a soybean field. The fairways were non-existent, the greens were choppy and the course layout was confusing.
And, progress has been slow.
Bigger doesn't have a large influx of corporate dollars. He has paid for every bit of the course, its maintenance and its improvement, which has been steady.
Play Eudora Riverview Golf Course today and it hardly resembles its former self. It is now 18 holes. The improvement might not get noticed by those who have a taste for a high-dollar weekly golf fix, however, anyone who has played this course over the years can see that it has gotten better.
The fairways are still lacking in quality turf in a lot of areas and the tee boxes still present a challenge in getting a wooden tee into the hard, sun-baked earth, but the greens, which used to be the equivalent of sand greens (with chlorophyll added for aesthetic purposes) can suddenly present a player with a reason to pull out his putter.
This improvement has coincided with catastrophes that have caused their share of destruction to the course. The floods of two years ago wiped out Riverview's signature hole the 380-yard, par-5 16th, which runs along a narrow riverbed and is intersected by a line of trees and caused Bigger to scramble to come up with a makeshift alternate hole.
Then in January 1999, Bigger's clubhouse was torched to the ground by arsonists. Instead of spending time and money improving the golf course, Bigger was forced to rebuild his clubhouse.
It hurt business. A lot of people thought the fire had burned him out of a business, but Bigger limped his way through a tough year. This year, the course has played more than 5,000 rounds and the clientele like the golf course itself is improving.
"We're starting to get the par golfers to come out here to play," he said. "It's not just the guys who want to come out here, have a good time and drink a lot of beer."
But make no mistake about it, this is a beginner course. If you're looking for a place that is immaculately kept and will offer all the aesthetic beauty of, say, Pebble Beach, well then you're going to hate Riverview.
But go into a round there $5 for as many holes as you can play during twilight hours with an open mind and no preconceived notions or comparisons to other places and you'll find it to your liking.
Riverview is the perfect beginner course. It offers a place for golf newcomers to learn the game by simply hitting the ball and it does so without the pressures of playing too slowly for the group behind you or too erratically. Most people who play there are erratic golfers. That being said, golf at your own risk.
More like this story