Divided they stand
Football practice begins for two DeSoto high school programs
DeSoto Wildcats
The DeSoto High football team started gearing up this week for a season of the same old game played in an entirely new way.
Brad Scott, who began his first season as DeSoto's head coach with Sunday night's midnight practice, said he planned to revamp the entire Wildcat football game.
"We want to teach that kind of fun, attacking, run-and gun-football," Scott said. "It's going to be a different kind of football than the people around here are used to seeing."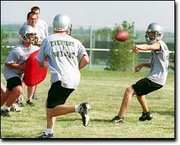 That football is a high-flying, passing game with an attacking and tempo-setting defensive set.
"We have the same philosophy on offense and defense," Scott said. "We want to attack. We want to dictate."
And at this week's hot and sticky mid-day practices, the team worked on all the basic fundamentals and got a feel for each and every offensive and defensive play Scott plans to run this year.
"We're gonna try to get the entire offense and defensive schemes put in," Scott said. "That way, when we get pads on (on Thursday) we can just concentrate on doing things well."
Junior linebacker and offensive tackle Bart McGivern, who is one of four team captains, said knowing and understanding the plays would be vital to the team's success because the style of play is so different.
"I think we are just gonna really have to work on the plays," McGivern said. "Everyone needs to know what their role is and do that on every play."
Juniors Justin Haub, David Davis and Jim Steven join McGivern as the captains this year and Scott said he hoped they would begin a tradition of leadership to build a program on one that would start this week at practice.
"The kids are going to see how to do things correctly when they come in the program and then that leadership is just going to carry on. The hard thing is to get it built up without anybody to model it after."
Despite Scott's high expectations, McGivern said he didn't feel any extra pressure and that practice had helped get the team acquainted with the new system.
"Things seem to be running smoothly," McGivern said. "Practice hasn't been too bad."
Mill Valley Jaguars
This week marked the beginning of a new football era as the Mill Valley High Jaguars took to the field for their first week of practice.
Seven o'clock Monday morning, about 50 Mill Valley athletes strapped on brand-new silver helmets and walked up to a whole new practice field a place they will know all-too-well by the end of this week full of two-a-day practices.
Their T-shirts stuck to their padless bodies they started practicing with pads on Thursday as the players worked over ropes through high step drills, and grass stains covered knees and elbows from passing work.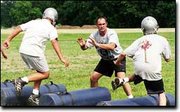 Coach George Radell said the team would work through conditioning, offensive and defensive drills all week in preparation for its first game, against Immaculata High on Sept. 1.
"We want to try to put in a play a day on offense and a defensive front each day and then kind of just rep it up until the Immac game," Radell said.
"So we are trying to add something new every day."
Senior defensive end Zack Solon, who came to Mill Valley from DeSoto High, said things had been going well at the practices and that the players were trying to learn as much as they could on both sides of the ball.
"When you only have about 40 guys, you are going to have some playing both ways," Solon said. "You gotta know everything."
Senior running back Justin Cobb said that while returners were working on learning second positions, the new-comers had to focus on picking up the style of play and the offensive and defensive sets the team would adopt.
"We have a lot of young talent, young men that are ready to step up," Cobb said. "I think they'll catch on quick."
Although some players were left gasping for breath after conditioning drills toward the end of practice, Cobb and Solon, who are two of only five returning starters, said they didn't think the practices had been too hard.
"This is cake for us," said Cobb, who remembered doing pushups at 4 in the morning in the pouring-down rain his freshman year. "So it hasn't been hard. The freshman this year are lucky."