This girl can twirl
Former Kansas Miss Majorette starting her high school career
Natalie Brent works hard at honing her craft even if most people around her have no idea what it is she does.
The 14-year-old DeSoto High freshman twirls the baton.
It's her passion.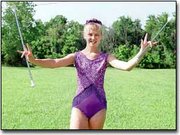 She practices several hours a day twice a week and uses a lot of her free time rehearsing at the school. However, she does so in relative obscurity.
"When I tell people I'm a twirler, most of them ask 'What's a twirler?'" she said. "I tell them it's those people you see in parades, marching in front of the band and flipping the silver stick."
After her performance at the National Competition at Notre Dame University last week, obscurity may be obscure for the twirler.
Brent finished in the top half in all events, and had two top 10 places, in the flag baton and team princess event.
"I felt special because I was chosen by my team for both attendance and my attitude for the event," Brent said.
Brent said she was happy with the finish, particularly because there were so many competitors and teams.
"It's great if you even finish in the top half," she said.
Brent is preparing for her first season with the Dazzlers, the combined dance/flag team that will perform at this year's high school games and assemblies. Although Brent works with the team on the dance moves in case it needs an extra member, she plans to focus on performing for the crowds.
"I'm really looking forward to [performing] at games and in front of people," Brent said.
This love for twirling started five years ago while she was attending a dance recital.
"I saw baton twirlers there and I knew that was what I wanted to do," Brent said.
Since then, Brent has been studying baton and twirling routines in Kansas City, Mo. Her instructor Heidi Jacobson said she has watched Brent grow into a team leader and a good example for the younger twirlers.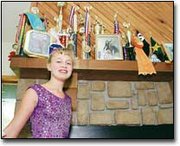 "Natalie knows how to mix in work with having a good time," Jacobson said.
Brent's hard work began to pay off when she tried her skills in local, regional and national competitions. She was named Kansas' Miss Majorette in 1998.
DeSoto Principal Debbie Lynn was among those who urged Brent to become involved with the Dazzlers as a way of showing her school spirit.
"Twirling is a lost art and I think that her performance does a lot not only for the school, but allows her to present herself and a rare specialty," Lynn said.
Brent plans to continue twirling in high school and, perhaps, through college. However, no matter what happens, she believes the lessons twirling has taught her will stick with her for the rest of her life.
"What ever you do, you have to try and do your best," Brent said.