Remembering a fallen friend
Cross erected in memory of man who died in auto accident
About a dozen of Robbie Crumly's friends gathered in an empty lot in downtown DeSoto Monday night to perform one last task for a friend they lost too soon.
Crumly, 21, was killed early Sunday morning when he flipped his vehicle while rounding a curve on Cedar Creek Road, south of 83rd Street. According to police reports, Crumly lost control of the vehicle, slid into a ditch and flipped over an embankment. He died at the scene.
A passenger in the vehicle, Ryan Irvin, 18, of DeSoto was not injured in the accident.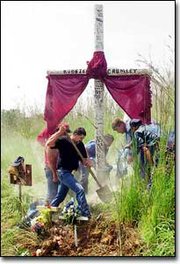 The night before Crumly's funeral, the mood was somber as his friends gathered in the empty lot and tied together two large wooden posts in the form of a cross. They planned to erect the 12-foot cross near the spot where Crumly was killed.
"We're going to take it down there and bury it after his funeral," Rick Tillery said. "So people will remember him."
As they covered the wooden posts with white paint, they searched for the right words to describe their friend.
Tom Taylor got them started.
"He was a real good guy, real smart and funny," he said.
"And he was a good worker," Crumly's step-brother, Brian Harris was quick to add.
Seconds later the mood lightened as each member of the group became anxious to add to the homage.
"He would give the shirt off his back to help anyone," Aldeo Eugene Gulley said. "He was just one of those kind of people who would do anything in the world for you."
"And he was always pulling pranks on everybody," Rick Tillery said. "He always made you laugh, anytime you were around him."
"He was a great guy. He was always smiling and made the people around him happy," Mike Spalding remembered.
Crumly worked at Eudora Feed and Grain and helped area farmers with their daily chores. He was a DeSoto native but most recently lived in Eudora.
"He helped the farmers around here put up their hay or whatever needed to be done," Taylor said.
Tillery remembered a time Crumly helped him out of a jam.
"He helped me get my cattle in and it was pouring rain," he said with a smile. "We got soaked."
No one seemed to remember whose idea it was to build the cross, but they all agreed it was a gesture Crumly would have appreciated.
"He'd be the first one out here if it happened to someone else," Taylor said.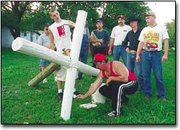 "And he'd be the one to pour all his money into it too," Harris added.
Shortly after Crumly was buried Tuesday afternoon, the friends drove to the site of the accident to bury the giant cross. They found waiting for them close to 60 of Crumly's friends and family members. Officers from the Johnson County Sheriff's Department blocked the road for the impromptu ceremony.
Already at the site of the accident were two small, wooden crosses and several flowers. The group watched in silence as the men buried the giant cross alongside them.
"We saw the small crosses here and we liked it, but we decided it wasn't enough. It wasn't big enough for Robbie and for what he meant to us," Tillery said.
Before they left, Gulley made a vow.
"We're going to return here every year on Robbie's birthday, on Aug. 12 and we're going to repaint the cross," he said. "And we want everyone who can to come out too and sign their names on the cross again."
Crumly's mother, Sharon Grant, said the actions of her son's friends overwhelmed her, but didn't surprise her.
"He was just the best son. Material things didn't mean anything to him. He loved people and it's pretty obvious that they loved him too," she said. "When I saw what the boys had done for him, it blew my mind. That they would have such and expression of love for him absolutely blows me away."