Oak: A short course that has come a long way
New owners have taken great strides making course better
Editor's note: This is the ninth part of a summer-long series highlighting some of the better golf courses in the Kansas City metro area. This week, we don't even have to venture out of the backyard when we take a look at our own Oak Country Golf Course.
The best indication of how far Oak Country Golf Course has come in the last five years can be perfectly illustrated on the course's longest hole the par-5 488-yard sixth.
The fairway on this hole once resembled the center of a high school football field at season's end. A long strip of dirt with sparse patches of grass growing in some places.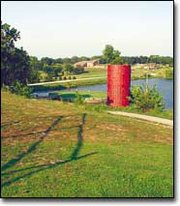 If it rained, it quickly turned into a quagmire.
In other words, it wasn't conducive to good golf or a good roll off the drive.
As a result, Oak Country Golf Course was known to many around Johnson County as the Goat Ranch.
Tom Anderson and his partners have worked hard to shed this reputation. In recent years, the course has undergone a number of renovations, including new cart paths and the sixth fairway hardly resembles its unimpressive former self.
The fairway on this dogleg left is lush and the ball bounces evenly and rests nicely in the grass. A once forgettable hole is now deemed as something of a hole to remember for positive reasons.
The sixth hole gained notoriety three years ago when Johnson County Community College golf instructor, Tyler Cundith, playing a scramble tournament with some of his students, cut the dogleg by going over the trees.
The weather had been dry and Cundith got much more roll than he expected from his Bubble Burner. He looked for the ball, but never found it. So they played another teammates' drive.
That is until they got to the green and found his ball in the hole.
Some dispute the validity of the shot that no one actually saw going into the hole, but it is on record as the second-longest hole in one ever. The 488-yard ace a triple eagle was a mere seven yards short of the longest hole in one ever recorded.
If you're looking for a long course, you're better off moving onto one of Johnson County's more notable courses, which provide one with longer golf shots and longer waits between holes.
But if you're just starting out, or want to work on your short game, there are worse places to be than Oak Country Golf Course, which measures a scant 3,927 yards and features eight par-3 holes.
Even the par fours would be considered short by the standards of most golf courses. The eight par-4 holes average about 250 yards each.
OK, unless you haven't figured it out, a long course, this isn't. Kind of ironic that Cundith nearly set a record for longest hole in one on one of the shortest courses in the area. The players who do well on this course are not the long hitters, but those who can control their shots.
Not much different than any course, really.
But this is truly a case where size doesn't matter.
Some may say this course is littered with gimmick holes throughout. One man's gimmick is another man's niche. Anderson has done a good job of taking this small course and making it challenging for most golfers.
Here are a few of the more noteworthy holes:
Hole No. 2: This 259-yard par-4 hooks slightly to the right around a grove of trees and is made much more difficult by the presence of an oak tree directly in the middle of this ultra-narrow fairway.
The trick is to get your tee shot over the oak and safely onto the fairway. From there, you're 100 yards from an elevated (and crowned) green that is not very big.
Hole No. 4: A 245-yard par-4 where the green can easily be reached from the tee box if a player can clear a line of tall trees located about 200 yards from the box.
In other words, getting some height is important. A low liner, which might easily travel the 245 yards, will likely get caught up in the trees and set up a tricky punch shot as an approach.
Hole No. 9: A 386-yard, par-5 that might be considered at first glance the most confusing hole you'll ever play. There is no logical landing spot in this fairway, which is intersected by a cart path, a creek, small hills and trees galore.
If you can keep your tee shot alive, the second shot is about 150 yards through the trees and over a small pond, which protects the front and right side of the green.
It's a hole where a par is very possible and a couple of nice shots make a birdie a real possibility.
Hole No. 18: The course's signature hole is a 115-yard par-3 where a player hits from atop a hill to an island green. A brick silo to the right protects the green and adds some esthetics to the hole.