Students stay home from school after phone call warns of Starside shooting
A threat of violence at their school kept 90 percent of the students at Starside Elementary in DeSoto at home Tuesday.
Only 61 of 611 enrolled students attended classes Tuesday following two anonymous phone calls within the last week from a person or persons threatening violence at the school. Police have questioned several suspects but made no arrest in the case.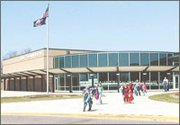 Starside staff members received a call April 12 which school administrators described as "threatening" in nature. Details of the call were not released but a Brownie troop at the school was sent home early.
Elizabeth Farmer, office manager of The DeSoto Explorer, received a similar phone call Monday at 10 a.m. The caller said he planned to "shoot up" Starside and a Methodist church the following day. He did not specify which Methodist church he was talking about.
Starside principal Paula Hill was in an administrative meeting away from the school when she heard of Monday's phone call. She returned to the school and began calling the parents of the school's kindergarten students who were scheduled to be released at 11:50 a.m. and asked them to pick up their children.
Superintendent Marilyn Layman explained Hill didn't know at the time that the threat was for the following day and she didn't want the younger students standing outside the building waiting for their rides home.
The older students were not sent home early Monday, but many parents heard of the incident and went to the school to pick up their children. The school district sent home a note to parents Monday afternoon making them aware of the threats but school was not canceled on Tuesday. Layman said Monday afternoon she was in contact with the Johnson County Sheriff's Office and felt confident about the children's safety.
As soon as Monday's threat was made known to the school district, schools in the immediate area - Starside, DeSoto High School and Lexington Trails Middle School - were locked down. That meant the outside doors were locked and monitored by police officers, students remained in their classrooms and teachers took attendance in every class. As an added precaution, Starside students ate lunch in their classrooms Monday.
Parents were allowed in to get their children at Starside and tables were set up in the lobby for students to be checked out by faculty members. Sheriff's deputies wearing bulletproof vests also stood at the school entrances observing all visitors.
Vicki Marks drives a school bus for the district and picked up her son, Andy, after hearing about the threat from someone at the bus office. Marks said she didn't feel comfortable leaving her son in school without knowing the exact nature of the threat.
"They're not telling us much right now," she said. "I'll keep him home until I know everything's safe."
Michelle Buffkin had a similar reaction. Buffkin picked up her son, Eric, shortly before noon Monday. She didn't know when she would let him return to school.
"I may keep him out until they find out who made the call," she said. "Better safe than sorry."
Frank Rudd picked up his seven grandchildren after hearing about the threat. Rudd said he figured everything would be fine, but didn't want to take any chances.
"I hope nothing happens, but you never know these days," he said.
Sgt. Brian Clark of the Johnson County Sheriff's Department said investigators have interviewed several suspects but don't seem to be getting any closer to solving the case.
"The suspects have been very cooperative, but we don't believe any of them are responsible for the threats," he said.
Clark said the sheriff's department would continue to keep a close eye on the school and investigate any possible leads they may receive. Clark was doubtful the caller intended to carry out his threats.
"Most people don't call and warn you if they're going to do something," he said. "But we will keep at least two officers there throughout the week. And we'll continue to investigate it."
The sheriff's department takes all threats seriously, Clark said. He did not rule out the possibility that the caller had an ulterior motive.
"We don't know if this could be a student using this as a way to get out of school," he said.
More like this story