It's hectic enough for many high school students to balance classwork with after-school activities. But DeSoto High junior Lane Erickson is becoming an expert in this type of juggling.
Honor student.
Baseball player.
And golfer.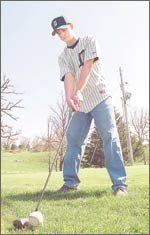 "I'm always tired, but I just have to keep going," Erickson said.
He's going strong. A pitcher on the baseball team and one of the top golfers for a Wildcats squad that has enjoyed a great deal of success in the early going, Erickson is defying the odds by competing in two sports simultaneously.
"It's difficult, and it's not because a person's not capable. It has more to do with conflicting schedules," said DeSoto golf coach Justin Bogart.
Thus far, there have been no conflicts, but when the two sports conflict, golf takes the lead.
"Golf is usually first priority," he said. "That was the deal made when I started this."
At the beginning of the season, Bogart had a schedule of all the practices. He told Erickson which ones were mandatory. That left some time for Erickson to attend a fair share of baseball practices.
"I go to baseball practices, and in my off time," he said, "I usually play catch or something to keep my arm in shape."
Of course, adding to the complication of coordinating a schedule is the uncertain spring weather, which can cause a rainout or two not to mention rescheduling events. In short, the more rescheduling there is the better the chance for conflicts.
"When something is rained out it can get pretty crazy," Erickson said.
Erickson started playing both sports about 10 years ago.
" I just thought baseball was fun, and all my friends were doing it," he said. "I stuck with it because I knew my parents really wanted me to, and I liked it. I started pitching because my uncle taught me everything he knew about pitching and about baseball, and he used to pitch for Oklahoma State."
But while baseball was merely fun, golf was love at first sight.
"I went out with my parents, and all I did was ride in the golf cart. But I saw it, and I just really wanted to try it," Erickson said.
The idea to try them both at the high-school level occurred to him last year.
"Since those are the only two sports I really play, it's kind of hard, but it seemed like a good idea. It just seemed like a good thing to do," he said.
Bogart and baseball coach Carl Garrett have worked together to make Erickson's arrangement work. Both agree it's important for high schoolers to experience as many things as possible at this time in their lives.
"This is a unique situation, but I think that it is in his best interest to do both," Bogart said.
Head baseball coach Carl Garrett agrees this special arrangement works mainly because pitching involves less of a need for daily practice the teamwork aspect than, say, another position.
"It has to be a special circumstance where the person is involved in something specific like pitching rather than something like a second baseman," Garrett said
This golf season has been successful thus far for Erickson, who has won a couple of meets and has been near the top in a few others for a DeSoto team that has won one tournament and a few dual meets.
"Baseball hasn't really taken away from golf," Bogart said. "I think he's gotten off to a better start this year than last year."