Columbine's legacy: Safety is more of an emphasis
Safety was already on the minds of DeSoto school administrators when a threat against one of their elementary schools was made Monday morning.
With the anniversary of the Littleton, Colo. shootings looming, Superintendent Marilyn Layman told her faculty and staff members to keep their eyes and ears open.
"We had talked about this week. I told them to be on their toes, to listen very carefully and to be aware of the conversations around them," she said.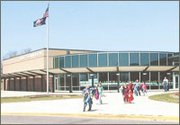 Layman's advice was nothing new for DeSoto teachers and administrators. It was more of a reminder of the district's increased emphasis on school safety.
As incidents of school violence are more closely examined by educators, parents and the media, schools across the country are re-evaluating their own policies and searching for ways to identify possible problems before they develop.
"We felt, after Columbine, we needed a more detailed, more specific plan. Our previous plan was very specific for the types of events we had to deal with at that time, but the world is changing," Layman said. "We didn't have as many guns out there before. All of the sudden, the crises were more violent. We knew we had to add to the plans to deal with the possible violence."
When the Columbine shootings took place, Lexington Trails Middle School Principal Mark Schmidt had been the district's crisis management director for about two weeks. The tragic shootings made his job both easier and harder, depending on how you look at it, he said. The increased focus on school safety since the shootings resulted in a wealth of information. Seminars, workshops and literature are all plentiful for school districts looking for answers, Schmidt said.
On the other hand, the shootings have increased the level of fear among students, parents and teachers, creating a self-fulfilling prophecy of sorts.
"If you have 12 people killed in Littleton and you watch 10 broadcasts about it, that's 120 people killed in Littleton," Schmidt said. "Fear breads fear. Suddenly you have people who think the police can't protect them so they feel like they need to carry a gun to protect themselves."
Schmidt believes the DeSoto School District is prepared for most situations it may face. A big part of that confidence is due to information obtained since the Littleton shootings, he said. However, he believes the shootings may have had more of an influence on how things are done than they should have.
"The type of crisis we're most likely to have is an abduction or custody issue," he said. "Or the issue of having someone unknown in the building."
If an unknown person does enter the building, teachers know what to do. A step-by-step guide is provided to all faculty and staff members. The same notebook instructs teachers and staff members what to do in a hostage situation, during a protest and during a riot.
There are sections that deal with tornadoes and fires and just about any medical problem imaginable. Every scenario district officials could imagine has been covered. The students regularly go through drills and policies are adjusted as need be, Schmidt said.
"When I was in school in the '80s, the emergency instructions included two steps, sound the alarm and clear the building," he said.
The attention to detail and faculty training that exists today make schools safer than they have ever been in the past, Schmidt said.
"Statistics show that schools are safer today than they used to be because we're thinking about it," he said. "I don't have the luxury of being naive and because I don't have that luxury, bad things are less likely to happen."
More important than having a plan to deal with a crisis is having a plan to prevent one, Schmidt said. Teachers are more in tune with their students than in the past. School counselors, teachers, psychologists and social workers meet every week to talk about the students and head off any problems they see developing, Schmidt said.
Teachers are taught to look for signs such as a child who may be fascinated by weapons or violence.
"If a sixth grade teacher asks for a poem and the student is fixated on violence, it will probably be a poem about violence," he said. "If an art teacher asks for a picture, the student will probably draw a violent scene. That can be a sign. That's not to say everyone who draws a violent picture or writes a poem about violence is fixated, but it can be a red flag."
Schmidt's ultimate goal is to ensure the safety of students in the district. He'll know he's succeeded when every student and every teacher feels safe in their classrooms, he said.
That only about half of his students at Lexington Trails came to school Tuesday tells him there's still some work to be done.
"We don't want teachers or students to come here and be fearful. What I want people to know is that we have a plan in place to prevent, and we have a plan in place in case. We have smart people working here who catch what falls through the cracks," he said. "We were safe yesterday, we're safe today and we'll be safe tomorrow but I won't be comfortable until 100 percent of our kids are back in school and feeling safe."