Cardiac 'Cats snatch a win
Seventh-inning rally the key in twinbill sweep of host Miege
There are games that can define a season set the tone for something special.
The DeSoto Wildcats may have experienced that kind of game Tuesday when they battled from a run down with two outs in the seventh to beat Bishop Miege and sweep a doubleheader from the Lady Stags.
"I think the last inning of the second game made me 20 years older," said coach Randy Keith, whose team improved to 9-1 at the halway point of the season.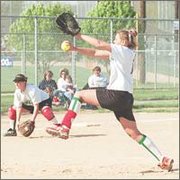 Leading 1-0 and riding the right arm of junior pitcher Ashley Perkins, who hurled a 1-0 shutout in the opener, the Wildcats committed their only miscue of the day a dropped flyball in the bottom of the sixth inning that allowed two runs to score and suddenly put the visitors on the brink of a doubleheader split.
The first two batters of the seventh inning made outs, but Kristy McCluer singled to keep the inning alive. Lauren Dickinson then fouled off pitch after pitch to stay alive before walking.
A single by Brooke Woolery loaded the bases for Chris Richardson, who promptly singled to score McCluer and Dickinson and give the Wildcats the lead again.
"I told them after the game, 'You guys are fighters,'" Keith said. "Games like this game prove that. They don't give up. They keep after it. This is a great game to win."
Perkins, who threw both ends of the doubleheader, pitched a perfect seventh inning to preserve the victory.
Things don't get any easier for the Wildcats. They host a strong team from Santa Fe Trail Thursday at 4 p.m.