Setting the bar high
DeSoto's first female vaulter blazing new trails in track
No one told senior Michelle Roellchen that pole vaulting was going to be easy. Nor did they tell her she'd nearly slice off her thumb in her attempts to defy gravity.
The thumb incident took place recently at a meet when she was adjusting the bar on the standard a common practice. Vaulters move the crossbar as far from the jumping area as possible.
However, while she was adjusting it, the standard slided down and sliced open her thumb.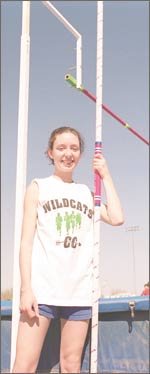 "I felt so stupid because it's such a silly mistake," Roellchen said.
The mistake can be excused. Keep in mind Roellchen is competing in an event that, until recently, was exclusively for boys. In fact, Roellchen carries the distinction of being the first girl in DeSoto High history to compete in the pole vault.
"It's really an exciting event," she said. "It's fun to be able to do something that a lot of people can't do."
Most can't do it.
Most won't do it.
The pole vault is one of those events that attracts the daredevils of the sport. It was an extreme sport before extreme was considered hip and trendy. And, it was the perfect event for a girl who thrives on competition and needed an event to call her own.
"A friend of mine persuaded me to try it," said Roellchen, who has been competing in track since the seventh-grade. "At first I ran the 75-meter hurdles and the 200-meter dash."
Roellchen went on to compete in events like the 800-meter run and 4 x 800 relay. When pole vaulting was opened to female high school competitors last year, Roellchen was the first to sign up.
"It just looked like fun, plus I had never heard of a girl doing it before," Roellchen said.
The highlight of Roellchen's career came the first time she cleared a height successfully.
"I was so happy. It was truly one of my greatest moments," she said.
Roellchen went on to set the current school record of 7 feet, which, when you consider she is one of only two female pole vaulters at DeSoto, is obviously a standard for future Wildcats to strive to clear.
"I hope I can increase it this year and maybe keep it for a few years after I graduate," Roellchen said.
Head coach Matt Bohm said it is Roellchen's patience and determination that has helped her get where she is.
"From day one, Michelle is has been putting her all into this event. Technique is important in this event and she wants to do it right," Bohm said. "She is a very hard worker."
The lack of female competitors should never be confused with a lack of support.
"The guys I practice with are behind me," she said. "I've never felt inferior just because I was a girl."
Roellchen has also tried to expand the sport to other females on the team. Sophomore pole vaulter Trinity Wright says she looks up to Roellchen not only because she's a senior, but also because she admires Roellchen's success in the field.
"The fact that she has set a record so early is inspiring. It makes me continue to try," Wright said.
As graduation approaches, so does the decision of whether she wants to compete at the collegiate level.
"It's possible. I'm talking to Fort Hays State University right now. It depends on how much time I have," Roellchen said.
That decision will be made after the high school track season is complete. For now, Roellchen is concentrating on the task at hand: Qualifying for the Kansas Class 5A meet in Wichita, which will feature her event for the first time.
That alone, the senior says, is a lesson for females everywhere. Gender should never be a barrier.
"Women are just as strong as men, at least mentally. If you want to do it, go for it. Don't think you can't do anything just because you're a girl," Roellchen said.