School district chooses to ride with Laidlaw
DeSoto School Board members chose experience over frugality last week, awarding next year's school bus contract to Laidlaw Transit, rejecting a slightly lower bid from the district's current provider, Crabtree-Harmon.
Board members made the choice at last week's school board meeting despite protest from about 20 of the district's 31 bus drivers.
The district's new paid ridership program was behind transportation director Jack Deyoe's decision to recommend the change from Crabtree-Harmon to Laidlaw Transit. The board decided earlier this year to begin charging students who live closer than 2.5 miles from school for bus service. Because Crabtree-Harmon has never dealt with paid ridership, Deyoe said he believed it was in the best interest of the district to make the change.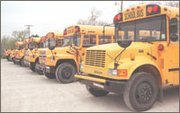 Deyoe made the same recommendation at the school board meeting two weeks earlier. A large number of drivers also attended that meeting and spoke on behalf of their current employer. Board members decided to gather more information before taking a vote on the matter. They asked Deyoe to again meet with representatives of each company to determine how the switch would affect the drivers. They also asked for an explanation of the two companies' pay scales, which are structured differently.
After meeting with representatives from both companies, Deyoe's recommendation didn't change.
"I would like to commend both companies for their cooperation and professionalism during what has been a very tough time," Deyoe said. "It was a very hard decision, but I still feel, for the district's benefit, we should go with Laidlaw."
Once the pay scales of the two companies are broken down, they are comparable, Deyoe said. Laidlaw officials would give the drivers a chance to keep their jobs and give them credit for time the time they worked for Crabtree-Harmon, he added.
Unconvinced, the drivers again urged board members to give Crabtree-Harmon representatives one year to prove they could handle the transition to paid ridership.
Jan Carpenter spoke on behalf of the drivers.
"Crabtree-Harmon has been here for 12 years and we think they should at least be given the chance to try," she said. "Before Crabtree, we had no office here and no mechanic. Crabtree has given a lot to this school district and we feel they should, at minimum, be given a chance to prove themselves."
The school district has had a problem in the past filling bus driver positions and board member Bill Waye wanted to know if going against the drivers' wishes would add to that problem.
Deyoe said it could create a problem next year, but because Laidlaw also provides service to surrounding schools including Lawrence and Olathe, there would be a larger pool of drivers from which to draw.
"The overall effect, where we'll be a year from now or two years from now, I think the situation will only be helped because we'll be a part of a consortium," he said.
Waye also wanted to know if the drivers could earn as much with Laidlaw as they have with Crabtree-Harmon.
"I think in the long run, (Laidlaw) is probably just a little stronger. If you went strictly by salary, there are certain times Crabtree may pay more, but then you start throwing in activity trips," Deyoe said. "I think the drivers will get a very strong package with Laidlaw. But pay is not ours to control."
Board member Rick Walker agreed with Deyoe, adding he would support his recommendation.
"It's the responsibility of the company to fill the buses with drivers," he said. "I hope paid ridership isn't near as big a headache as you seem to think it'll be. But if it is, you're the one who has to deal with it so I'll trust your judgment on that."
Board members voted unanimously to award the three-year contract to Laidlaw Transit.