Horsing Around
Taking care of other people's ponies keeps this local couple busy
Tony and Dawn Keating never know what to expect when they come home.
Their 35-acre ranch may be quiet. Then again, they may be greeted by a dozen people on horseback.
The owners of Kill Creek Ranch board 42 horses plus three of their own at the 35-acre ranch. The owners come and go as they please and at least one or two of them can usually be found spending time with their horses.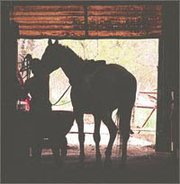 "It takes a little getting used to," Tony said. "But we have some really great people who board their horses here, so we enjoy it."
The Keatings bought the horse farm a little more than a year ago. They're new to the boarding business and are setting their standards high from the start.
Tony gets up at 6 o'clock every morning and feeds the 45 horses. He makes his way from the barn to the paddock area and the pasture. That would take most people through lunch, but Tony's day is just getting started.
After feeding the horses, he puts in eight hours at his "real job" as a Metropolitan Life employee. By the time he finishes there, it's dinnertime for the horses. In the hours that are left, he and Dawn work around the ranch.
"There's always something to do," he said. "We're either cleaning or doing some kind of repair."
As he talks about his schedule, Tony makes it clear he's not complaining.
He and Dawn get some help from their children, 11-year-old Kaeyla and 10-year-old Casey, and the whole family knows they've got a pretty good deal going.
"It's great," he said. "You get out here and it gets your mind off everything else. It's really enjoyable."
The Keatings didn't buy the ranch to get rich. As a matter of fact, Tony doesn't expect either himself or his wife to quit their day jobs any time soon.
"There's really not enough money in it for that," he said. "We used to pay $1,000 a month to board our own horses, so we save that money now and make enough to keep this going."
The boarding business is a seasonal one, Tony said. Although his stables are full now, he said some of the horses might be gone in a few months.
"We have 12 stalls now rented to a trainer, Sherry Elliott," he said. "Those horses will probably stay here for about six months while she's training them."
Elliott is training Morgan show horses at the ranch, including one ranked third in the nation.
The business may not be making the couple a fortune, but it is doing exactly what Tony and Dawn hoped it would.
"It enables us to live the lifestyle we enjoy," Tony said. "We're from a small town and it lets us to return to that type of lifestyle while living near the city."
Spending time with the horses is another bonus, he said.
"We've always liked horses and we had horses when we were growing up," he said. "I like caring for them and providing them with a clean, safe and friendly environment."
Dawn and Tony's commitment to the horses is what attracted Rene Rodgers of DeSoto to Kill Creek Ranch.
Rodgers has boarded her 21-year-old quarter horse with the Keatings since shortly after they purchased the ranch.
She's owned Brownie for two years and tried three different stables before she found Tony and Dawn.
"They take good care of her," Rodgers said. "She's always fed and always has fresh water. It's important to feel like your horse is well cared for."
That's exactly how Tony wants all of his customers to feel, he said.
"We really wanted to create a place where people can come to get away from it all," he said.
Once in a while, Tony and Dawn find some time to get away from it all themselves.
"We have a four-mile trail here that's just a beautiful place to ride," he said. "We enjoy trail riding and we do that quite a bit."