Purple Heart Veterans Foundation tax form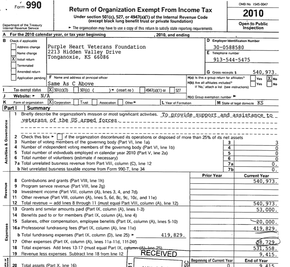 Source: Internal Revenue Service
The Purple Heart Veterans Foundation 2010 IRS tax form 990 that tax-exempt non-profit organizations are required to file annually with the IRS.
PDF / 4.0 MB
Save 40%, 50%, 60% or more on quality products and services from popular local and regional merchants! Sign up now and be the first to know when the hottest deals arrive.
I think Brownback is a sure thing, unless something changes drastically.
— Max Atwell