De Soto City Ordinance #2268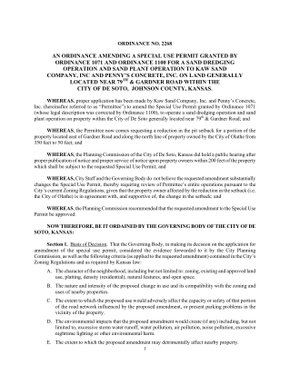 Source: De Soto City Attorney
An ordinance amending a special use permit granted by ordinance #1071 and ordinance #1100 for a sand-dredging operation and sand plant operation to Kaw Sand Company, Inc. and Penny's Concrete, Inc.
PDF / 74.5 KB
Save 40%, 50%, 60% or more on quality products and services from popular local and regional merchants! Sign up now and be the first to know when the hottest deals arrive.
I think Brownback is a sure thing, unless something changes drastically.
— Max Atwell