Anniversary
Cox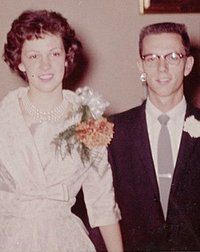 Larry and Mary Cox, Olathe, will celebrate their 50th wedding
anniversary with family and friends from 4 p.m. to 7 p.m. Oct. 9 at De Soto United Methodist Church, Fellowship Hall, 8760 Kill Creek Road, De Soto. A buffet-style dinner will be served. Reservations must be received by Sept. 30 at (913) 782-8769 or coxfamily50@gmail.com. Mary Buckley and Larry Cox were married Oct. 14, 1960, at the Methodist Episcopal Church in De Soto. Both are graduates of De Soto High School and previously lived in Lawrence for 20 years. Larry is retired from DuPont.
The couple have two sons, Mark and wife Lori, Florida, and Bryan and wife Chris, Colorado; and four grandchildren. Cards can be sent to 11820 Moonlight Terrace, Olathe, KS 66061.