Explorer editor to chat about new newspaper format
February 6, 2009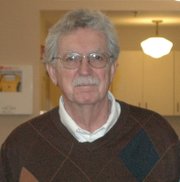 The De Soto Explorer went to a tab size with the Feb. 5 issue. If you have any questions about what this means to the paper, ask editor Elvyn Jones
This chat has already taken place. Read the transcript below.
Moderator
Question:
Why was the change to the tab size made?
Elvyn Jones:
There were some financial considerations, but surveys have shown readers like the small size, which is easier to hold and navigate.
Question: Will there be content changes with the new format?
Elvyn J. Jones:
The format affords the staff to continue the same coverage. In addition, several features have been added. Those include a 5 questions feature in which we quiz a newsmaker in the community about a current topic, a Neighbors feature that introduces readers to a community member, Points of view on the editorial page in which resident respond to questions of community interest and Our Town, a weekly picture photo package.
February 6, 2009at 11:26 a.m.